31 dicembre 2022 – Tripadvisor awards Villa Liberty with the prize for 10% of the best hotels in the world
Villa Liberty – Como
Tripadvisor annually assigns the Travellers' Choice award to the 10% of the best accommodation facilities in the world that consistently offer a high quality service based on the reviews of their users. Villa Liberty is honored to have received this important recognition for the second consecutive year.
Attention to every guest's need, attention to detail, high quality continental breakfast, finely furnished rooms, private SPA for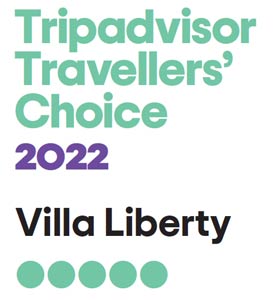 moments of relaxation and terrace overlooking the lake to celebrate the most important events are just some of the aspects that characterize our hospitality. The goal of our staff is to make you feel at home to be pampered in a refined and elegant environment.
Villa Liberty, open all year round, is ready to welcome all those who want to visit the beauties of Lake Como and stay in a period residence which however offers modern, elegant and innovative interiors.
To find out prices and details for your next stay, write to us at info@villalibertycomo.it or call +39 031 4883015.